Your SW Calgary Choice for Dental Implants
Are you looking for Dental Implants in Calgary? If you have one or more missing teeth and are looking for a permanent and durable solution, Ultima Dental Wellness is pleased to offer the convenience of Dental Implants.
So whether you are looking for Full Mouth Dental Implants, Dental Implants for Seniors, Whole Mouth Dental Implants or are interested in finding out more about the Cost of Dental Implants, our dental team is here to help you!
What are Dental Implants?
Dental implants are used to replace missing teeth by fusing an artificial screw device made of titanium metal or ceramic into the jawbone. The titanium screw device replaces the natural root of your tooth and is surgically fixed into the jaw to provide a solid base for the artificial tooth replacement. To complete the restoration, it is then fitted with a dental crown or bridge.
Why Choose A Dental Implant?
Since dental implants are the closest restoration type that you can get that acts like own your natural teeth, they can look and function just like a regular tooth. They may be an ideal replacement that can improve the overall aesthetics of your smile. Additionally, they will allow you to enjoy many of the foods you may have been missing out on.
They can be used individually, or to support a number of dental prostheses, including implant-supported dental bridges, partial dentures, and complete dentures. Dental implants can also improve how your dentures fit, as well as relieve the pain and irritation to the gum tissue often associated with denture adhesive; since dental implants 'clip' into place, they replace the need for denture adhesive altogether.
What are the benefits of Dental Implants?
There is a significant improvement in the overall quality of life for patients who have implant-supported or retained dentures, as opposed to standard or conventional (free-floating) dentures.
Dental implants are the closest option to your natural teeth; they can look, feel and function just like your own teeth.
Dental implants can improve the overall appearance of your smile.
Implants maintain, or realign, facial structure and profile, and preserve bone.
Dental Implants are easy to clean and do not decay.
Implants help to preserve adjacent natural teeth. With an implant-supported bridge, there is no need to stress or traumatize adjacent natural teeth in order to hold the bridge in place. Traditional removable partial dentures also place stress forces on the remaining natural teeth.
More benefits of Dental Implants
Implant-supported crowns and bridges have a longer functioning life than conventional crowns and bridges placed over natural tooth structure.
Implants help to prevent the appearance of premature aging due to bone loss. Osteoporosis can accelerate bone loss with patients using standard or conventional dentures.
Patients who wear conventional full dentures often experience difficulty eating, speaking and smiling. Implant-supported dentures virtually eliminate embarrassing denture slippage. The implants 'anchor' the dentures.
Implants are cost-effective when considering the functioning life of the implant.
The success rate for dental implants is extremely high; in the 95% range. With proper care and good dental hygiene, it's rare that implants will fail.
We know that replacing missing teeth with a high functioning restoration solution is important to you. It is our goal at Ultima Dental Wellness to provide you with dental implant restoration that is long-lasting, looks completely natural and functions normally.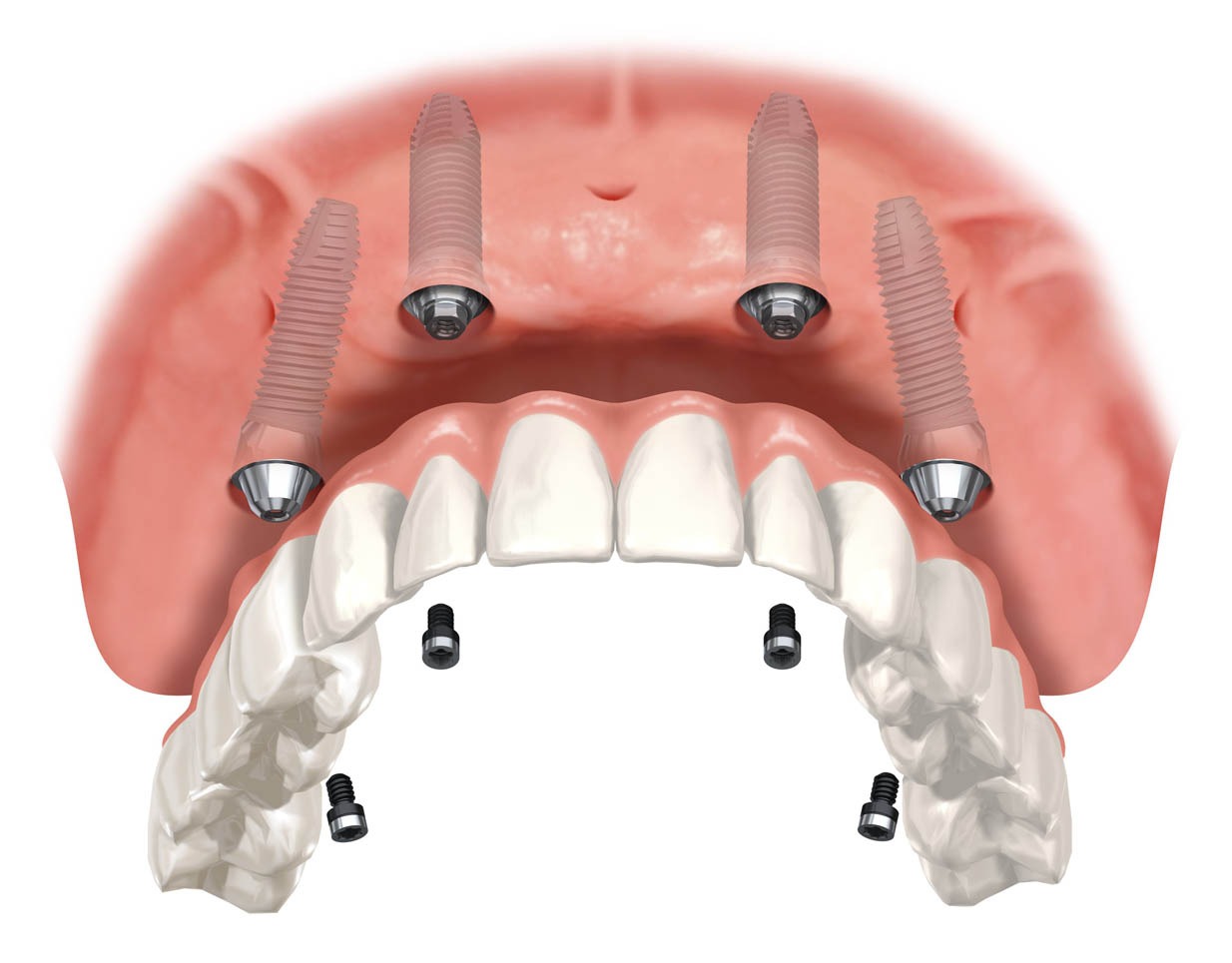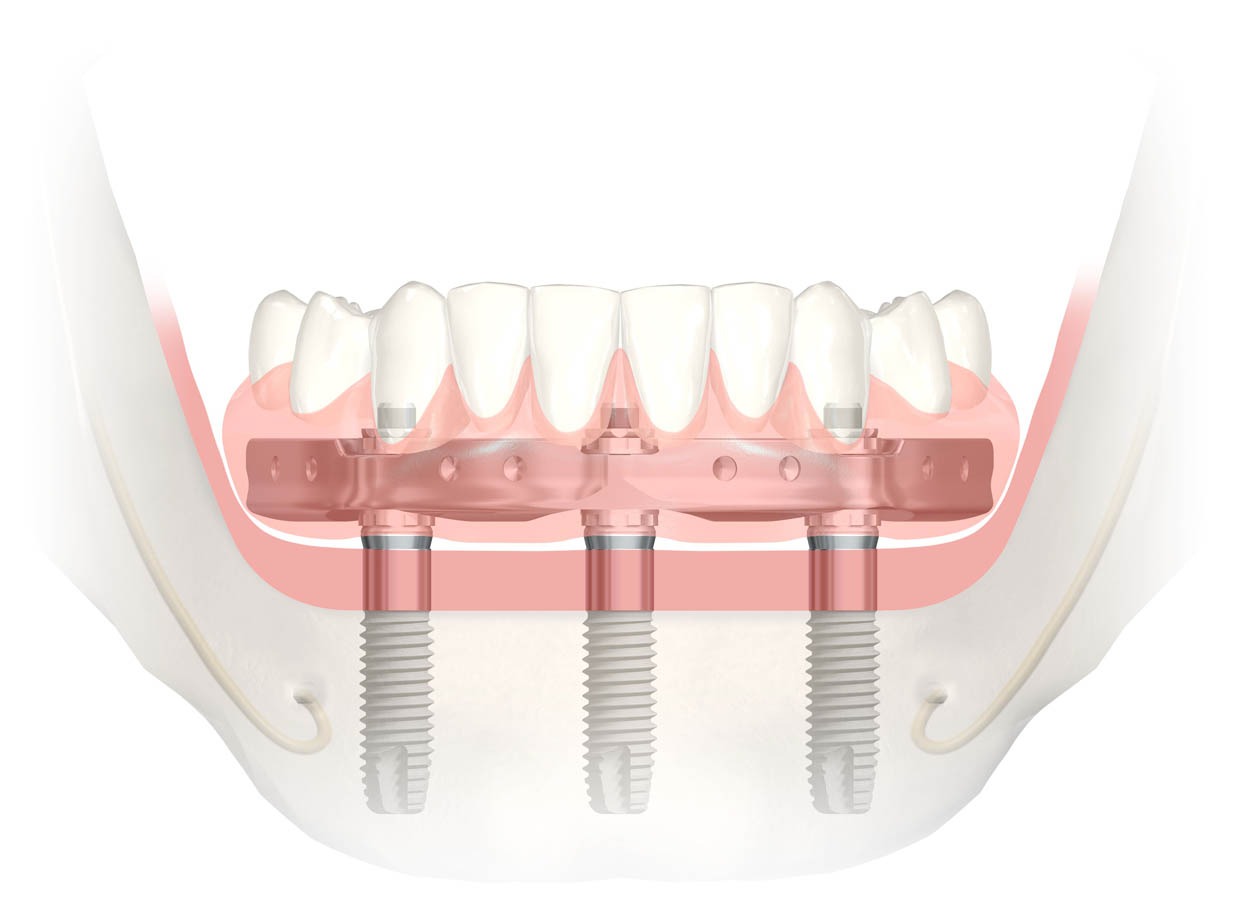 What are All-On-Four® Dental Implants?
You may have heard the term All-On-Four used when referring to dental implants. This is a procedure that can use fewer implants and does not require bone grafts to give you full-arch tooth replacement.
The good news is that replacing your teeth using All-On-Four can save you time and money as well as helping you replicate the feel and function of your own natural teeth. Since the All-On-Four Dental Implants look like your own teeth, they do not need to be held in place with adhesives as dentures do.
Since the All-On-Four Implant is fixed (non-removable), they function and act just like teeth would. They can also be esthetically pleasing as they look like your own healthy smile. Additionally, you can enjoy the taste of your food as unlike conventional dentures, the roof of your mouth is not covered.
Another benefit is that the procedure can be completed in as little as one day! So there is no need for a lengthy transition period. Since the recovery process is minimized, you can talk, eat and socialize as soon as you leave our office.
Unlike conventional dental implants, the All-On-Four process can significantly bring down the cost of your procedure with satisfying and effective results!
What Are Implant-Supported Dentures?
Typically most dentures are held in place by adhesives and can be uncomfortable or ill-fitting. Implant-Supported Dentures also known as a Fixed Denture Implant, offer an alternative to traditional removable dentures.
If you are struggling with Dentures, Implant Supported Dentures can be a solution to replace your existing dentures. When properly placed and cared for, these implants have a long track record of success and may last for a lifetime.
The dentists at Ultima Dental Wellness, are well trained and experienced at placing Implant Support Dentures. When placing your Implants, our dentists will fuse titanium posts to your jawbone which creates artificial roots to attach your Implant-Supported Denture to. Doing this will ensure that your dentures do not slip or move or even require removal for cleaning, just like your own natural teeth!
Since there is no better time than now, especially when you may possibly be experiencing bone loss, we recommend that you book your Implant-Supported Denture consultation with our Dental Team so we can show you how they can potentially help improve your quality of life!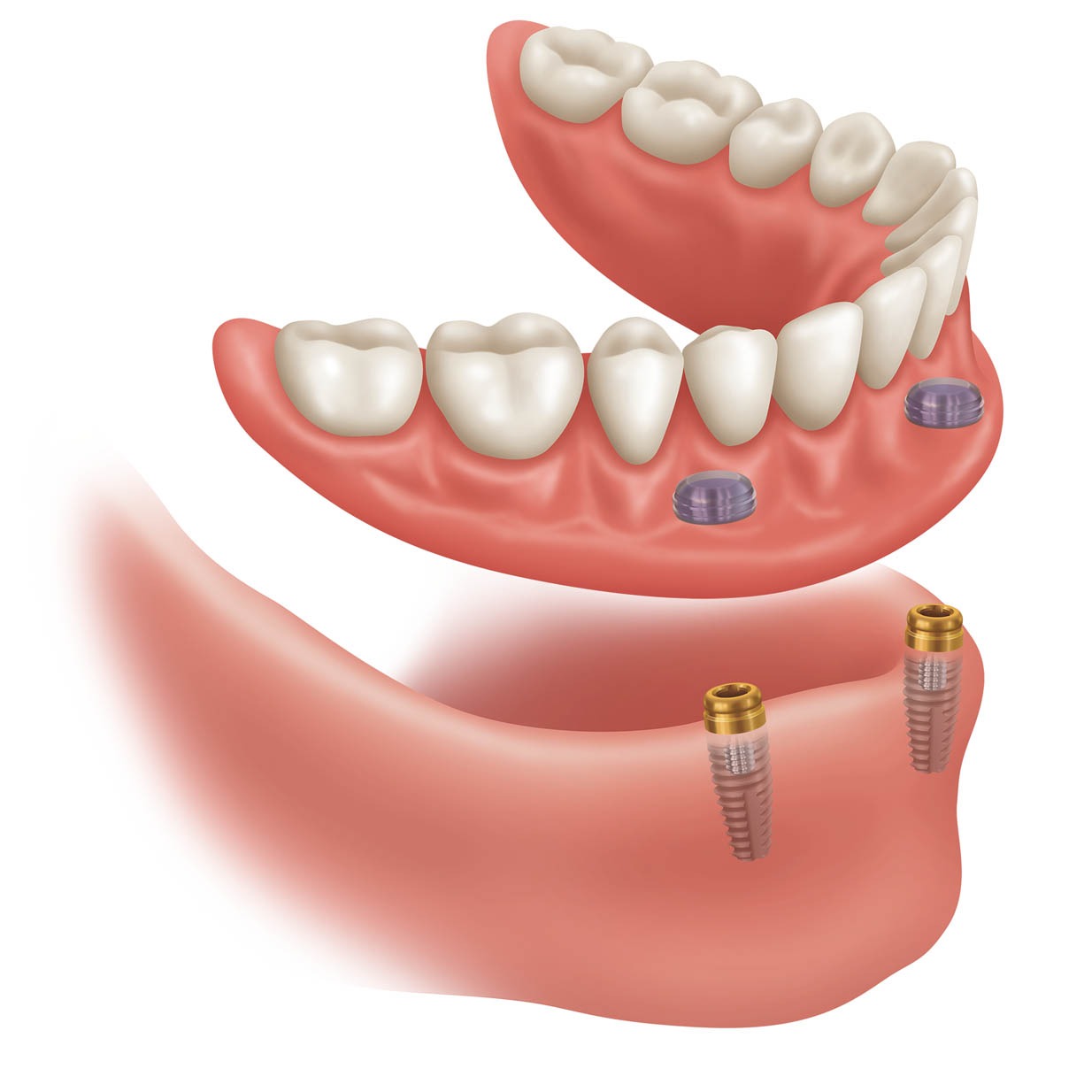 Call Ultima Dental Wellness at (403) 259-3401 today so that our Dental Team can examine your mouth thoroughly and work with you to decide if you are a good candidate for Dental Implants!