We Welcome All Patients Experiencing a Dental Emergency!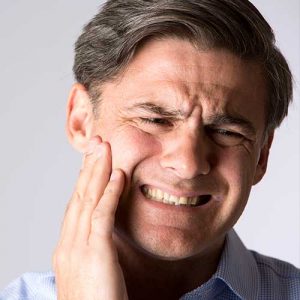 If you are not sure if a dental problem requires emergency dental care, the dentists at Ultima Dental Wellness are your choice for Calgary Emergency Dentistry. If you require Emergency Dentistry Care in Calgary, our dentists offer this advice: If it hurts, it's an emergency!
This is because even injuries that seem small or superficial can affect the living tissues inside the teeth. Quick treatment for your dental emergency improves the odds of saving injured or damaged teeth.
Even if you are not in much pain, any structural damage to a tooth — from a sports injury, for example — should be considered a dental emergency. Because chips or fractures can affect the living tissue inside the tooth, leaving them may cause more problems in the future. The dental team at Ultima Dental Wellness is here to prevent any possible damage from getting worse!
Even Lost Crowns or Fillings Can be a Dental Emergency!
The same can be true for a lost filling or crown. Even if you do not have any symptoms, the tooth has lost its support and it could easily become weaker. Pieces could break off or crumble, and you would need more extensive treatment. If you see your dentist right away, there is a good chance they will be able to repair the damage with minimal treatment.
Ultima Dental Wellness is your choice for Emergency Dentist in Calgary. We can help you with any Emergency Dental situation ranging from broken teeth to oral injuries!
What are the typical symptoms of a Dental Emergency?
A toothache that won't go away
Facial swelling
Tooth pain that is non-responsive to pain killers
Any pain that wakes you up at night
A gum infection
Sensitivity to cold or hot liquids or sweets
Pain from biting pressure
Constant or intermittent tooth pain
Severe throbbing tooth pain
Tissue swelling of the face
Bad taste or odor in your mouth
Bleeding from the mouth
A loss of a tooth, a cracked, broken or chipped tooth, or an abscessed tooth
A loss of filling or crown
If you are suffering from any of the conditions above, we recommend that you get immediate help to treat your emergency condition.
Our skilled team is compassionate, professional and supportive. That way if you require our Emergency Dental Care, our Calgary Emergency Dentists can assess your condition to help alleviate your pain as soon as possible!
Our team understands the severity of dental emergencies and is here to provide you and your family with treatment services 24/7 – 365 days a year!